I love the idea that art is communication, so delight in using subtle symbolism in colorful compositions that are artistic and pleasurable.         Rita
  I was born and grew up in rural Moniteau County, Missouri.  When my first grade teacher hung the class art projects up over the blackboard, (my first art show), I knew I wanted to be an artist!  Even then I had the idea that all living things needed some aesthetic food for spiritual/psychological survival. 
My artistic career began with batik, then printmaking, both mediums suited to shapes and patterns dressed up in rich color. It was there that I developed my particular style and learned the use of appropriate color approximation by experimenting with color at the edges of the color wheel. Using patterns and color shapes to make designs became art that expressed my interpretation of recognizable objects.
All along, my self studies have included artists, mostly painters, who had mastered the use of unexpected color. The night as painted by Wm. Leigh or the most unforgettable richness of color used by Mark Rothko have been great influences. Human forms portrayed in simple shapes by Gaugan and Modigliani, and most intriguing, the ability to convey an emotion, mood or idea in just a few simple strokes or through a facial expression. I have learned from those artists in interpreting subjects that speak to me.  As a mature artist I have trained my eye to 'break' a scene into patterns of color shapes, sometimes merging one into the other.
In my 42 years as an artist, I have mastered my own style, enjoyed a rich, artistic experience and now find my work included in numerous public and private collections. I would be honored to also be among yours!
Accomplishments:
• Listed "Who's Who' In America and 'Who's Who' of American Women
•Member: National Asoc of Independent Artists (NAIA)
• Philadelphia Print Club
•Member: Missouri Watercolor Society
• Founding Board Member: National Oli & Acrylic Painter's Society, 1990-1994. *****
• Board Member: Greater Lake Area Arts Council. 1990 & 1991
• Solo Exhibit: Clear Lake Arts Center, Clear Lake, IA
• "Double Vision", Harwell Art Museum, Poplar Bluff, MO
• "The Song Within", Ashby-Hodge Gallery of Art, Fayette, MO
•Where We Live", Norfolk Art Center, Norfolk, NE
• "Two Views", Ella Carouthers Dunnegan Museum, Bolivar, MO
• Cherry Creek Mobile Art Collection, (Roving Exhibition), Denver, CO
• "Women's Work", Leedy Volkos Gallery, Kansas City, MO
• "Esthetics", Birger Sandzen Gallery, Lindsborg, KS
• 25th "Prints and Drawings" Exhibit, Arkansas Art Cntr, Little Rock, AR
•MOAK, 4 State Exhibit, Springfield Art Museum, Springfield, MO
• 57th Juried Exhibit, Sioux City Art Center, Sioux City, IA
• "Spirituality in America", Albuquerque, NM
• Catharine L Wolfe Art Exhibit at National Arts Club, New York, NY
• Nat League of Am Pen Women Exhibit, Walton Art Cntr, Fayetteville, AR
****The 

National Oil & Acrylic Painter's Society was founded by my husband Joseph, myself and two other fine art painters, Dennis Yates and Pete Peterson, along with Bill & Martha Mitchell, art advocates from our mid Missouri area. After months of planning over late night pizza and coffee, we obtained  non profit organization status and launched the first exhibit here in Osage Beach, MO in October, 1991.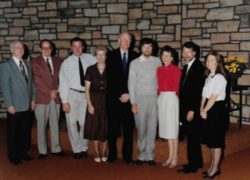 At right: The original NOAPS board. From left: Wm. Mullens, Dr. Don Ruthenberg, (President, Columbia College), *Dennis Yates (artist), *Martha & *Wm Mitchell, *Pete Peterson (artist), Ann Tabler, *Joseph & *Rita Orr (artists).   *denotes founders